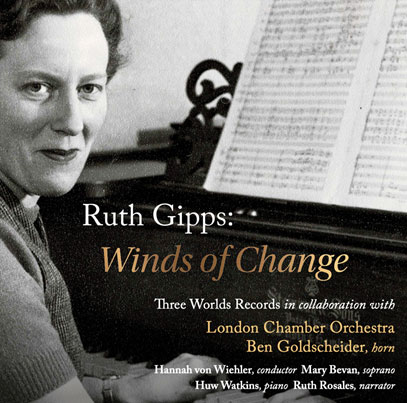 Three Worlds Records and London Chamber Orchestra present the first complete catalogue of Ruth Gipps' chamber writing for horn.
This intensely personal recording offers an in-depth insight into Ruth Gipps' life and music. Many of these works were inspired by Gipps' son, the prolific horn player Lance Baker, and are recorded here for the very first time.
Hannah von Wiehler conducts an outstanding chamber ensemble of the UK's leading principals and soloists, including ECHO Rising Star Ben Goldscheider as principal horn and bassoonist Meyrick Alexander.
Ben Goldscheider comments: "I first became acquainted with Gipps' music via her Horn Concerto op.58, a work that struck me as a result of its spellbinding virtuosity and orchestral colour. I was shocked to discover so many of her works have not been commercially recorded. We hope that this recording will help ensure the longevity of these works, and further her place in British musical history."
For Meyrick Alexander, the recording was a chance to revisit one of the high points of his student life: "I performed in Ruth's London Repertoire Orchestra in the 1960s, sitting beside her husband, the clarinettist Robert Baker, and their son Lance, a steady presence on first horn. My regular encounters with the enthusiastic and encouraging personality of Ruth Gipps were amongst the high points of my student experience. It is a real joy to play her music again so many years later, and to reignite memories of her."
Track List
The Three Billy Goats Gruff Op.27b, trio for oboe, horn and bassoon
Seascape Op.53, for double wind quintet
A Taradiddle for Two Horns Op.54
Sonatina for Horn and Piano Op.56
Triton for Horn and Piano Op.60
Wind Octet Op.65, for two oboes, two clarinets, two bassoons and two horns
Wind Sinfonietta Op.73, for wind ensemble
The Pony Cart Op.75, for flute, piano and french horn
The Lady of the Lambs Op.79, for soprano and wind quintet
Sonata for Alto Trombone (or Horn) and Piano
Artists
Gordon Hunt, Oboe
Alison Alty, Oboe / Cor
Thomas Hancox, Flute
Chris Hankin, Flute / Picc
Mark van de Wiel, Clarinet
Jonathan Parkin, Clarinet
Meyrick Alexander, Bassoon
Graham Hobbs, Bassoon
Ben Goldscheider, Horn
Annemarie Federle, Horn
Elsa Bradley, Tam-Tam
Hannah von Wiehler, Conductor
Huw Watkins, Piano
---
Media Enquiries
Damaris Brown
Artium Media Relations
damaris@artiummediarelations.co.uk