BEN GOLDSCHEIDER – HUW WATKINS – JAMES GILCHRIST
In every field there are individuals who, with their dedication and passion, change the course of history.
Dennis Brain was one such individual. He has often been heralded as awakening the horn from a long slumber, such was the comparative barrenness of the Romantic period in terms of compositions for a solo horn player. The Baroque and Classical period were rich in their output, with leading composers such as Vivaldi, Telemann, Haydn, Mozart and Beethoven writing soloistic music for the horn. This, however, was no great coincidence and it was due to the impressive characters of the time such as Giovanni Punto and Josef Leutgeb who inspired composers to write for this wonderful instrument.
It would seem that no such player existed, or was able, to inspire the likes of Tchaikovsky, Mendelssohn or Sibelius to write their horn concerto equivalents to their masterpieces for violin or piano. Despite Dennis Brain's extraordinary horn playing and musicality, it is what he did for the instrument in general terms which continues to inspire me every single day. His legacy, the emancipation of the horn from its royal status in the orchestra to an instrument that was considered worthy of being heard in a soloistic fashion, was a remarkable feat. One has to pinch themselves when confronted with the question of "if only" when considering what may have been achieved had he not left us with so much more to give.
To be a young British horn player since Brain's tragic death is to be part of an exceptional tradition and under the influence of a remarkable aura. I doubt there is a single horn player that has not marvelled at the dexterity and elegance of his playing as exemplified on his few but precious records. To listen to him dance and flit through the last movement of the Second Concerto by Richard Strauss is to listen to the epitome of grace and dexterity to which we all aspire.
Biographical information is plentiful and thus, I would rather express my deep gratitude and admiration to Dennis Brain for all he did for the horn. As we celebrate his centenary in 2021, his courage to push boundaries, be passionate and work tirelessly in pursuit of excellence could not be more prevalent to our own time.
With this disc, I aim to pay a humble and respectful tribute to his legacy. The structure of the album is such that there is music by two composers he worked with during his lifetime; Benjamin Britten and Sir Malcolm Arnold, music by two composers who wrote in his memory; Francis Poulenc and Sir Peter Maxwell-Davies and then, in the spirit of his passion and dedication towards new music, two commissions by Huw Watkins and Roxanna Panufnik, both of whom have written works which I believe will be in the standard repertoire for many years to come. It is with great pleasure that I share this album with you and I hope that it is as enjoyable to listen to as it was to create.
– Ben Goldscheider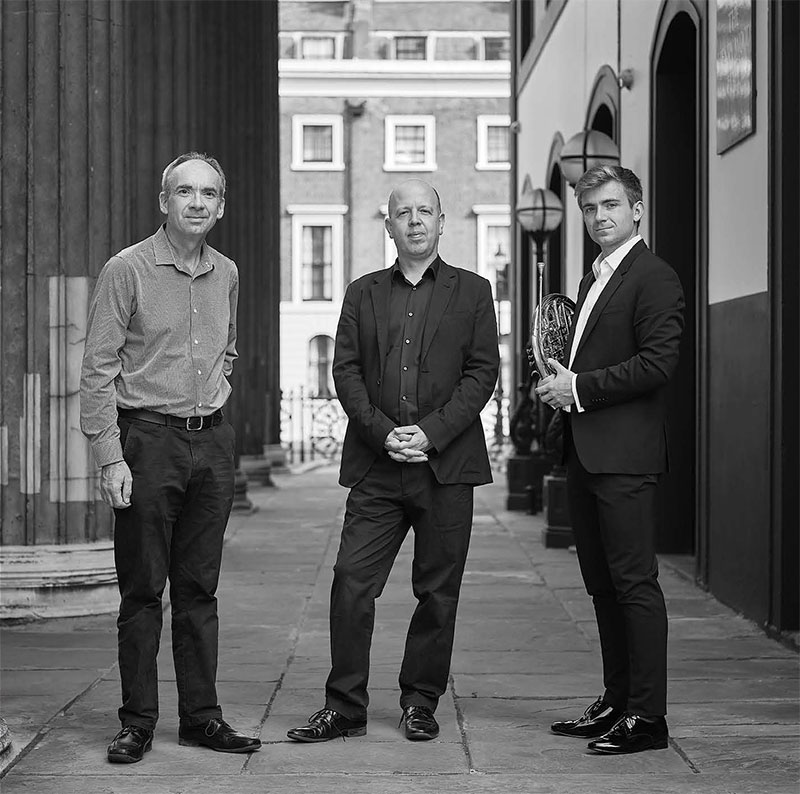 Huw Watkins Lament
When Ben Goldscheider asked me to write a new piece for a CD [and streaming] celebrating the legacy of Dennis Brain, I immediately thought of Poulenc's Elégie (written in memory of Brain) and its juxtaposition of violent anger and lyrical beauty, and felt I wanted to do something similar. Lament begins quietly, with long, expressive horn lines emerging from a web of piano harmony. At its climax, the horn writing becomes anguished, accompanied by increasingly dissonant piano chords, before a muted return to the opening music, the harmony less consoling now.
– Huw Watkins
Sir Malcolm Arnold Fantasy
Sir Malcolm Arnold was born on the 21st October 1921 and thus, like Dennis Brain, will also celebrate his centenary in 2021. His earliest musical influences came from his mother as well as his love for the jazz trumpeter, Louis Armstrong. The latter inspired Arnold to take up the trumpet at the age of twelve, having seen the legend playing live whilst on a family holiday. At the age of sixteen, Arnold began studying both the trumpet and composition at the Royal College of Music in London.
His colleagues at the RCM comprised some of the most important figures of classical music in the country, including his teacher in composition, Gordon Jacob. Indeed, both men would later write concertos specifically for the talents of Dennis Brain. Arnold's affinity for brass instruments was rooted not only in his early love for Louis Armstrong but also as a result of his extensive experience playing as principal trumpet of the London Philharmonic Orchestra. As such, his compositional output for brass was rather extensive and comprises of two horn concertos, a trumpet concerto, a symphony for brass instruments and Fantasies for trumpet, trombone, tuba as well as his Fantasy for Horn, written in 1966.
This piece, Fantasy, was commissioned by the City of Birmingham Symphony Orchestra for the Birmingham International Wind Competition. At the time, Arnold was one of the most sought after composers of his generation, both for his symphonic, "classical" music, as well as his film scores, the latter of which made him somewhat reminiscent of a rock star in terms of reputation and lifestyle. Amazingly, at the height of his successes, Arnold was writing film scores at a rate of six per year.
The money and fame attached to this lifestyle had a significant effect on his personal life. Whilst clearly a musical genius, he was also an alcoholic, a manic depressive and unfortunately, this made life for those around him exceedingly difficult. There were significant moments in his life that reflected this, such as his multiple admissions into a psychiatric hospital where he would undergo treatments such as Insulin Shock Therapy and Electroconvulsive Therapy, these often inducing seizures.
The instability and intrinsic loneliness that must have been at the heart of these issues is often evident in his music, such as the eerie and desolate landscape that is depicted in the second movement of his Second Horn Concerto as well as his Second Symphony.
His Fantasy for Horn on the other hand, is an example of his masterful affinity for melody, a skill that was frequently honed and perfected during his film score writing. The piece is in an ABA, ternary form. The first section is an energetic, spirited melody that is perhaps alluding to the merriment of the English working class at the pub, a facet of life he much admired. The some- what drunken nature of this is depicted through frequent accents on syncopated beats, pushing the music out of its natural swing and giving a genuinely rustic air to proceedings. The middle section is a far more introvert affair, the melodic material is now full of sorrow and is highly expressive. Out of a fanfare motif that plays on the horn's origins, namely call and response, a highly virtuosic bridge section with fleeting chromatic scales brings in the return of the A section.
Marked "Prestissimo", the music flurries towards its climax and finishes almost mid-sentence, cut off by four repeated B♭'s.
Critics at the time were generally unsympathetic towards Arnold, especially regarding his use of melody and for this, he would suffer greatly. Nevertheless, the ability he had for this element of music means that he can be regarded as one of the most undervalued composers of the twentieth century. He was, after all, a composer who wished nothing more than his music to be loved and enjoyed by as many people as possible.
Francis Poulenc Elegie
Often compartmentalised as either, to use the words of musicologist Claude Rostand, "the monk" or the "street urchin", Francis Poulenc was nevertheless a composer of great, varied and valuable music.
He was a precocious adolescent and made his mark in the early 1920's as one of the young French composers known as Les Six. His own musical style was very concise, clearly structured and diatonic. He himself acknowledged his lack of inventiveness with regard to his harmonic language and English composer Lennox Berkeley wrote of him, "All through his life, he was content to use conventional harmony, but his use of it was so individual, so immediately recognisable as his own, that it gave his music freshness and validity". During the post-war period, Poulenc defended composers such as Stravinsky who, much like many English composers of the time such as Sir Malcolm Arnold, Ruth Gipps and Benjamin Britten, came un- der intellectual attack by the leading advocates of the dodecaphonic style and the Darmstadt school; figures such as Arnold Schönberg and Pierre Boulez criticising them for their lack of compliance with the latest avant-garde techniques.
Parallels between Poulenc and Britten are ample. In 1935, Poulenc formed a performing partnership with the great baritone Pierre Bernac that was the French equivalent, certainly in artistic if not personal terms, of the Britten-Pears powerhouse in England. Both men became friends and shared many things in common, such as their distaste for the war and violence that they were surrounded with. Whilst Britten was a conscientious objector, Poulenc was more subtle in his opposition and set music to many poems by leading figures of the French resistance including Eluard and Louis Aragon. Perhaps their crowning achievement was the premiere of Poulenc's double piano concerto, in which the two composers played both solo parts with the London Philharmonic Orchestra in January 1945.
Elegy is significant because it laments not only the death of Dennis Brain but also a plethora of close friends, associates and artists admired by Poulenc that died early and often painful deaths. Names such as Guillaume Apollinaire, Raymond Radiguet, Raymond Linossier, Ar- thur Honneger, Max Jacob and Robert Desnos all died tragically during Poulenc's career. Be- ginning with his friend Emmanuel Faÿ's suicide in 1923, Poulenc was very close to a number of musicians such as his favourite conductor Roger Desorniere, violinist Ginnette Neveau and Jacques Thibaud who died awful deaths, for example the latter two dying in plane crashes in 1949 and 1953 respectively.
Dennis Brain's death in 1957 was the catalyst for one of his most austere and haunting works, Elegy. The opening bells are Poulenc's brief foray into the dodecaphonic style, with all twelve notes of the chromatic scale sounded. The piece then has a violent, aggressive outburst over an obscure march in the piano part that seemingly has no direction. This brutal motif comes back later in the piece to perhaps musically portray the violence of Dennis Brains car accident. There are other allusions to Brain in the piece such as the open fifth broken chords towards the end, perhaps alluding to the warm up exercises that Poulenc would no doubt have heard from a distance when they played together, such as their performance at Wigmore Hall of the Sextet for Piano and Winds in 1947. Crucially, in this piece, Poulenc strays from the idyllic, poetic notion of the nineteenth century horn and, much like Dennis Brain, signals a new role for the instrument as a soloist.
Benjamin Britten Canticle III, Still Falls the Rain
Like many of his colleagues, the death of Dennis Brain shook Benjamin Britten tremendously. In 1958 he planned his own piece, In Memoriam Dennis Brain, as a tribute but unfortunately, this exists only as two incomplete sketches for four horns and orchestra. Much like the motifs that are heard in Poulenc's Elegie, the music that remains show bell-like figures and anguished outbursts, musically portraying the pain that many felt over this horrible news.
Benjamin Britten's Canticle III, Still Falls the Rain also inhabits a world of pain and suffering, the music conveying the subject matter of the text by Edith Sitwell; comparing the Blitz of London with the crucifixion of Christ. The content of the text is musically depicted in a highly sensitive way, for example the line "field of blood…nurtures its greed, that worm", sung over a chromatic scale, playing on the imagery of the worm. There are other occasions such as "the hunted hare" preceding the hunting horns gestures in the following variation and "pulse of the heart" being reflected by pulsing eighth notes in a 6/8 time signature. The most significant moment occurs in the final variation; "Still do I love, still shed my innocent light, my Blood, for thee," the horn and voice uniting for the first time, peacefully and "innocently" over a repeated B♭. Britten treats us to a masterclass in word painting.
Despite the twenty year old Britten having aspirations to study with Alban Berg in Vienna, this plan was thwarted by his mother and the Royal College of Music, based on the premise that Berg was "not a good influence". A move that would have undoubtedly had a fundamentally different influence on Britten's compositional trajectory, Britten remained detached from the atonal, dodecaphonic world of his continental contemporaries.
Despite there being a hint of serialism in the theme, namely the horn introducing all twelve notes of the chromatic scale, it is merely base material for Britten's masterful manipulation and development of two whole-tone fragments only a semitone apart, acting as the material for the rest of the work.
The structure of the work is such that the text is set to six rhythmically free recitatives, each interspersed with a series of interludes. The principal tension of the piece comes from the contrast of these two pillars and this is helped greatly by the fact that the horn and the voice take one role each, as well as the contrast between the tonally ambiguous variations and the insistent clarity of B♭ in the verses. At the beginning of the twentieth century, there was a constant tension between composers who composed serial music and those that did not. What Britten does with the theme of this work is confront this dichotomy of tonality and atonality by placing them side-by-side. The theme, as has been mentioned, is tonally ambiguous and finally rests on a cadence firmly in B♭, followed by a verse that is unquestionably of the same tonality. As the piece progresses, Britten explores the relationship between this confrontation of extremes, the horn and the voice acting as pawns in a much larger battle, pulling each other in different directions until the reconciliation of the final variation, the unison B♭'s.
Roxanna Panufnik Sonnets without Words
When horn player Ben Goldscheider asked me if I had anything he could programme for a CD, I saw an opportunity to do what I'd longed to, for some years.
I have set many Shakespeare sonnets for voice and piano but have always felt that the long, languorous vocal lines could work well as purely instrumental – especially with Ben's beautiful and lyrical timbre.
Mine Eye (1999), for mezzo-soprano and piano, was written as a Valentine's gift for JS, the boyfriend of that time. JS was/is a great lover of visual art and this sonnet's words conjure up a painterly portrayal of love – how the artist sees the emotion but still may not be able fathom what is felt behind a beautiful
Music to Hear was commissioned for baritone Oliver Dunn and pianist Emma Abbate, by Peninsula Arts (Plymouth University), celebrating Shakespeare's 450th Its sentiments are bittersweet like my harmonic language. The poem is about a young man saddened by the cheerful beauty of music, because harmony and concord remind him of his obligation to marry and procreate.
Sweet Love Remember'd was a private commission – from Dora Black to her husband Jack, on the occasion of their 50th Wedding anniversary. Originally written for Alto voice, the accompaniment can be performed on harpsichord or The words seem full of grief and desolation at the start but they end with a positive statement that tells us however low we have become, the memory of Sweet Love
"…..such wealth brings
That then I scorn to change my state with kings."
– Roxanna Panufnik
Sir Peter Maxwell Davies Fanfare Salute to Dennis Brain
Sir Peter Maxwell Davies was born on the 8th September, 1934. One of two pieces for solo horn in his repertoire, Fanfare Salute to Dennis Brain was written to commemorate the fiftieth anniversary of Dennis Brains death.
Davies attended the Leigh Grammar School whereby music was not considered a subject    fit for academic teaching. Despite this, he would go on to contribute significantly to the musical life in England, beginning with his involvement with the New Music Manchester Group, an association he founded with fellow composers Sir Harrison Birtwistle and Alexander Goehr whilst studying simultaneously at the Royal Northern College of Music and Manchester University.
In comparison with other composers featured on this album such as Francis Poulenc, Benjamin Britten and Sir Malcolm Arnold, the composers that formed the New Music Manchester Group were devoted to the latest techniques, styles and trends of the post-war avant-garde period. His contributions to this group include his trumpet sonata, five piano pieces and his clarinet sonata. The Trumpet Sonata in particular is an interesting example of how British composers generally dealt with the developments of music, coating his use of serialism in traditional, historic forms like the Sonata-Allegro form.
In 1967, Davies founded the Pierrot players with Birtwistle at a time when the music business in the UK was highly unresponsive to new musical ideas. It was at this time, however, that Davies entered one of the more musically turbulent periods of his life, composing pieces such as Tavener and Worldes Blis; works that had much in common with the radical musical language of his central European colleagues.
In 1971, however, a move to Orkney signalled a new era for the composer and it was there that he gained his subject matter for Farewell to Stromness. Whilst not wholly indicative of his musical style in general and unarguably more accessible than the majority of his music, it is nevertheless also one of his most popular works, written as a protest against a proposed uranium mine on the Orkney Islands. From this period onwards, his music did gain more cohesion and this is a testament to the flexibility of his compositional technique. His process often involved numerous sketches that eventually incorporated pre-existing material such as numerical sequences and traces of plainchant melodies.
Fanfare Salute to Dennis Brain is an example of a late work (2007), that has no hint of his earlier forays into serial language. The piece is in six short movements, framed at either end by a brisk, simple fanfare motif. The middle four movements are very thinly scored, almost vocal-like phrases which appear on the surface as passing thoughts and reflections.
The fourth movement in particular is reminiscent of the tessitura and contouring of a Gregorian chant. Perhaps the reflective nature of the music is designed to entice the listener to remember fondly the life and achievements of Dennis Brain through the sound of the horn.
Ending on a triple forte G♭, growing in volume with seemingly no end, is a violent musical metaphor for the way in which Brain met his untimely death.
Ben Goldscheider
Born in London in 1997, Ben began playing the horn at the age of 9 and started studying  with Susan Dent at the Royal College of Music Junior Department from the age of 11. In 2020, he graduated with honours from the Barenboim-Said Academy in Berlin, studying with Radek Baborák.
Highlights of Ben's career thus far have included his debut as a soloist with the Aurora Orchestra, BBC Concert Orchestra, BBC Symphony Orchestra, Britten Sinfonia, City of London Sinfonia, English Chamber Orchestra, London Mozart Players, Lucerne Symphony, Manchester Camerata, Mozarteum Orchestra, the Prague Philharmonia, the Royal Philhar- monic Orchestra, and das Sinfonie Orchester Berlin. He has worked as soloist with conduc- tors such as James Gaffigan, Nicholas Collon, Mark Wigglesworth, Kristiina Poska, Radek Baborak, Andrew Gourlay and Jessica Cottis, and recorded the solo horn call from Wagner's Siegfried with the Hallé Orchestra, conducted by Sir Mark Elder.
At the age of 18 Ben was a Concerto Finalist in the 2016 BBC Young Musician Competition. In 2018 he made his BBC Proms debut, released his first CD, Debut, to critical acclaim, and was selected as a BBC Music Magazine Rising Star and Gramophone Magazine One to Watch.
The 2020/2021 season sees him return as a recitalist to Wigmore Hall, perform Britten's Ser- enade at the Queen Elizabeth Hall and Ligeti's Horn Trio at the Pierre Boulez Saal. A keen advocate for new music, he premieres new works by Huw Watkins, Roxanna Panufnik, Chris- toph Schönberger, Guillem Palomar and, as a member of the Pierre Boulez Ensemble, collab- orates with François-Xavier-Roth, Zubin Mehta, Lahav Shani and Matthias Pintscher.
Huw Watkins
A pianist and one of Brirain's foremost composers, Huw Watkins was born in Wales in 1976. He studied piano with Peter Lawson at Chetham's School of Music and composition with Robin Holloway, Alexander Goehr and Julian Anderson at Cambridge and the Royal College of Music. In 2001 he was awarded the Constant and Kit Lambert Junior Fellowship at the Royal College of Music, and he now teaches composition at the Royal Academy of Music.
His own compositions have been commissioned and performed by the Nash Ensemble, Belcea and Elias quartets, BBC Symphony Orchestra, LSO, Birmingham Contemporary Music Group and Cincinnati Chamber Orchestra, amongst others.
As a pianist, Huw Watkins is in great demand with orchestras and festivals including the London Sinfonietta, Britten Sinfonia, the BBC orchestras and Aldeburgh, East Neuk and Cheltenham Festivals. He has performed globally at concert halls including at Wigmore Hall, the Barbican, the Library of Congress in Washington, the Lincoln Center, the Smithsonian Institute in NY, Great Lakes Chamber Music Festival in Detroit, Kristiansand Orchestra in Norway, Columbus (USA) with ProMusica Chamber Orchestra, Domaine Forget and Toron- to Summer Music Festival and in Italy, France, Germany, Hungary and Portugal.
Strongly committed to the performance of new music, Huw has had a few piano concertos written for him by Philip Cashian, Helen Grime and Tansy Davies.
He won the Chamber Music of Lincoln Center's 2016 Elise L.Stoeger Prize in recognition of his significant contributions to the field of chamber music composition. He was composer in the house with the Orchestra of the Swan and Composer in Association with BBC NOW
He performs regularly with his brother Paul Watkins, as well as Tamsin Waley-Cohen and has featured as both Composer in Residence and pianist at festivals including West Cork Chamber Music, Presteigne and Lars Vogt's 'Spannungen' Festival in Heimbach, Germany.
Huw Watkins is regularly featured on BBC Radio 3, and has recorded for labels such as Sig- num, Chandos, Nimbus, BIS and NMC.
James Gilchrist
Tenor James Gilchrist began his working life as a doctor, turning to a full-time music ca- reer in 1996. His extensive concert repertoire has seen him perform in major concert halls throughout the world with renowned conductors including Sir John Eliot Gardiner, Sir Roger Norrington, Bernard Labadie, Harry Christophers, Harry Bicket, Masaaki Suzuki and Richard Hickox. A master of English music, he has performed Britten's Church Parables in St Petersburg, in London and at the Aldeburgh Festival, Nocturne with the NHK Symphony in Tokyo and War Requiem with the San Francisco Symphony and the National Youth Orchestra of Germany. Highlights have included singing the role of Rev. Adams in Britten's Peter Grimes with Bergen Philharmonic and Edward Gardner with performances at the Edinburgh International Festival, Royal Festival Hall, Grieghallen and Den Norske Opera, as well as Haydn's Creation for a staged production with Garsington Opera and Ballet Rambert, Elijah with Goteborgs Symfoniker and Masaaki Suzuki, and a return to King's College, Cambridge to perform St Matthew Passion as part of Stephen Cleobury's final Easter week as Director of Music. Bach's Christmas Oratorio and the St John and St Matthew Passion feature prominently in his schedule, and he is celebrated as perhaps the finest Evangelist of his generation; as one review noted, "he hasn't become a one-man Evangelist industry by chance".
James' impressive discography includes recordings of Albert Herring (title role), Vaughan Wil- liams' Songs of Travel, and solo disc Solitude with pianist and long-time collaborator Anna Til- brook, including a new work by Jonathan Dove, all for Chandos Records, St John Passion with the AAM, the Finzi song cycle Oh Fair To See, Elizabethan Lute Songs, Leighton Earth Sweet Earth, Vaughan Williams On Wenlock Edge, and Britten's Winter Words for Linn Records, and the critically-acclaimed recordings of Schubert's song cycles for Orchid Classics.